As a writer on our blog, we ask that posts provide
practical and actionable advice
on web marketing and follows
our mission
.
The Orbit blog is where digital marketers find expert, practical advice on web design and content marketing. Our goal is to help you get better results from the web.
Guidelines
Posts on the Orbit website are helpful, not self-promotional. No jargon or corporate speak. Keep it interesting and conversational.
The audience is fellow marketers and small business owners. They are busy. What are they going to get out of your post?
---
Requirements
The following are required material for the Orbit blog, especially formatting and images (please do not skip our image requirements below).
Word count:
1500 (min) – Please don't limit your blog post based on this number. Most of Orbit's blog posts range from 1500 – 2800 words.
Format:
Share a Google doc with amanda@orbitmedia.com.
Links:
Link to other content whenever relevant. Every link included must add value for readers.
Paragraph length and spacing:
Keep paragraphs short. No longer than 4 lines.
We adhere to the one space after the period philosophy, not two.
Formatting:
Use headers and sub headers to break up your post.
Avoid big blocks of text.
When writing headlines be specific and indicate a benefit to the reader. Read "How to Write a Headline" if you need pointers.
Use bullet and numbered lists.
End the post with a question or a call to action for comments. The more specific, the better.
Images and video:
We love images and video on the Orbit blog. We use them to break up text, make the blog post scannable and to support data. We include one image at every scroll depth, so an image is always visible. Here is a great example.
Include one featured image that is 1600×650
All post images must be at least 800px wide.
NO STOCK PHOTOS (unless absolutely necessary, which is hardly ever).
Note: feel free to supply an image for social media (Twitter/Facebook). The image must be a 2:1 ratio like 600×300 and should include something that will make the visitor want to click the image to arrive on the blog post.
Examples of images that do well on the Orbit blog and here.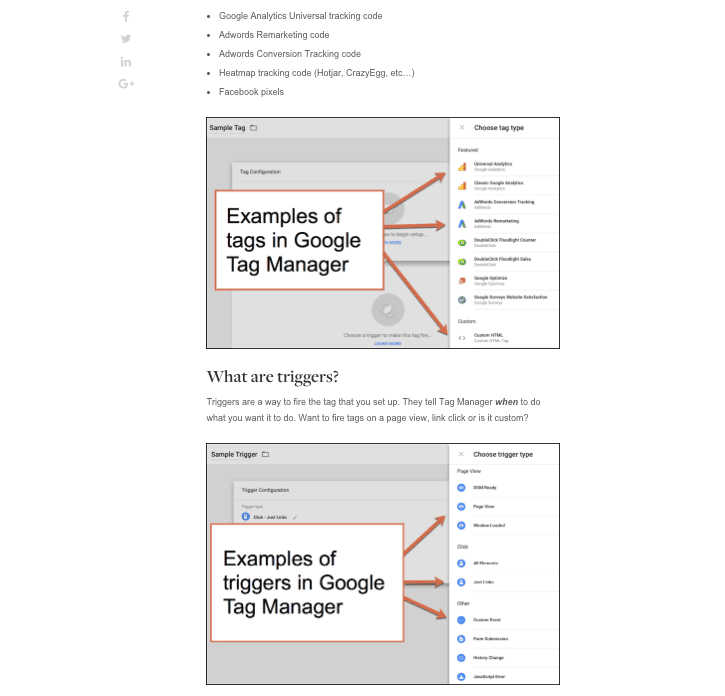 Author bio:
Author bio should be 50 words max.
Include your headshot (350×350).
Link to your Twitter, LinkedIn and company.
Example: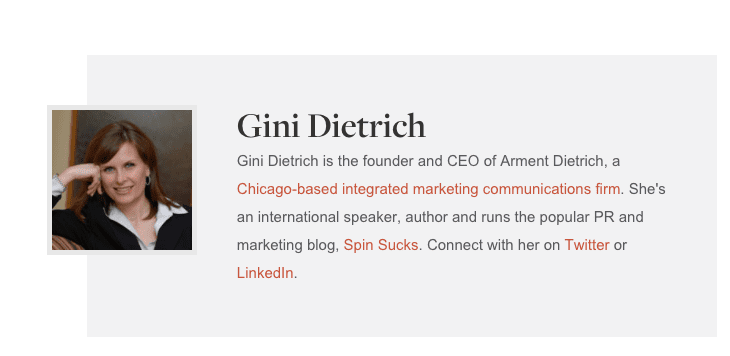 ---
Editing
We may edit your post or bounce it back to you for revisions. We may edit anchor text and links that are not relevant to your post. Sometimes scheduling may change but we will let you know ahead of time.
Exclusivity
We ask that your article not be published elsewhere previously, or simultaneously. If you'd like to republish a guest post that ran on the Orbit site, please wait at least 2 weeks to do so. Update it to make it current and link to the original post.
Deadline
We ask that your articles be submitted 7 days prior to your scheduled run date. Don't worry, we'll coordinate a date together.
Commenting
Please be available the day your article publishes and the following days to respond to comments.
Promoting
Please plan to promote your post throughout your social networks. We ask that you share it a few times on multiple networks over multiple days. The time frame and scheduling is up to you.
Inspiration
Here's an awesome post on guest blogging like a pro for additional inspiration.
---
Orbit brand colors:
Orbit preferred words:
call to action (no hyphens)
Domain Authority (always capitalized)
e words in general (lower case, no hyphen)
ecommerce (lower case, no hyphen)
thank you page (no hyphen)
internet (lower case)
homepage (one word, no hyphen)
sign up (verb, no hyphen)
signup (noun, no hyphen, one word)
signup (adjective, no hyphen, one word)
log in/log out (verb, no hyphen)
login/logout (noun, no hyphen, one word)
login/logout (adjective, no hyphen, one word)
sign in (verb, no hyphen)
sign-in (noun, no hyphen, one word)
sign-in (adjective, no hyphen, one word)
keyphrase (one word, no space)
website (one word, no space)
web page (two words)
web (lower case)
Click through rate
That's it. Happy writing!